Performing Arts Partners
The Music School partners with local ensembles and organizations who share our pursuit of music for everyone.

Brandywine Brass
A Taste of Britain, Too
Music of British Composers for Brass Quintet
Tuesday, October 24, 2017 • 7 p.m. • Wilmington Concert Hall • $10/5

A follow up to our inaugural concert featuring composers of the United Kingdom. We plan to have a special surprise guest composer, a reprise of two favorites from last year and all new selections and arrangements of classic English tunes. Learn more at brandywinebrass.org.
Organ and Brass Spectacular
with Faculty Member David Schelat, Organ
Tuesday, February 13, 2018 • 7 p.m. • St. Mary of the Assumption, Hockessin • $10/5

Music from all eras including compositions by David Schelat, Craig Phillips, Antonio Vivaldi and more. This program will be exciting, eclectic and electrifying as we explore the many combinations of colors possible through the combined forces of the virtuosic playing of David Schelat and the members of Brandywine Brass. Held in Hockessin to celebrate The Music School of Delaware's newest satellite location.
The Great American Songbook, Vol II
Selections by the Greats of Tin Pan Alley
Wednesday, May 2, 2018 • 7 p.m. • Wilmington Concert Hall • $10/5

A return of the vocals of Mary Ellen Schauber as we explore more of the works of the great songwriters of the 20th century with our own arrangements by Robert Wallace. If you missed last year's performance, here's a chance to hear great singing and playing again by Mary Ellen Schauber and the Brandywine Brass. Last year's performance had the audience on their feet. Don't miss it! (Date moved from Tuesday, May 1, 2018)
Return to top
---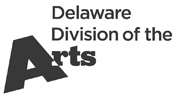 This organization is supported, in part, by a grant from the Delaware Division of the Arts, a state agency, in partnership with the National Endowment for the Arts. The Division promotes Delaware arts events on www.DelawareScene.com
.

The Music School of Delaware is proud to be an active partner in the IN Wilmington Arts Campaign.